Heritage Travel
Star Road
Partridge Green
Horsham
West Sussex
RH13 8RD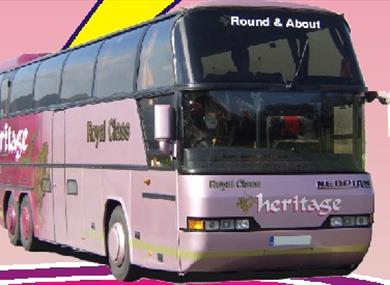 First conceived over 30 years ago, Heritage Travel coaches have become a familiar sight on the highways and byways of both mainland Britain and Continental Europe. Still a family run business; Heritage Travel has achieved an un-paralleled level of customer service and satisfaction that makes us what we are today, one of the foremost operators of group travel in South East England.

With a fleet of over 40 vehicles at our command and a compliment of Drivers and Crew who are at the top of their profession, we can confidently boast that Heritage Travel is spearheading the drive into the 21st Century!

Heritage Travel has, since its conception in the late seventies maintained a policy of constant re-investment in its infrastructure, thus enabling us to offer you only the very best product that is available, something that we feel none of our competitors can rival, both in terms of price and quality.

The Heritage Travel experience does not only mean Coach Hire, our team of Directors and Managers have left no stone unturned in creating further opportunities for you to enjoy our product.

Heritage Travel also boasts a comprehensive range of day excursions and holidays throughout Great Britain and Europe through our sister company "Round and About" which represent not only a great day out by coach, but excellent value for money. As part of the Heritage Travel Group, you can rely on the fact that "Round and About" is still a family concern and run by the same Management Team as the private hire side of Heritage Travel and therefore benefits from the same bench-mark level of service that our Managing Director demands and we all pride ourselves on.

At the forefront of Heritage Travel is the opportunity for you to hire one of our luxury coaches. We have the widest, most comprehensive range of fully seat-belted vehicles in south east England, we are the only operator of a separate fleet of double deck Coaches allowing you to transport up to 94 people in air-conditioned, fully seat-belted comfort, all at a low, low price.


Opening Times
2017
(1 Jan 2017 - 31 Dec 2017)