Winter Gardens Margate
Fort Crescent
Margate
Kent
CT9 1HX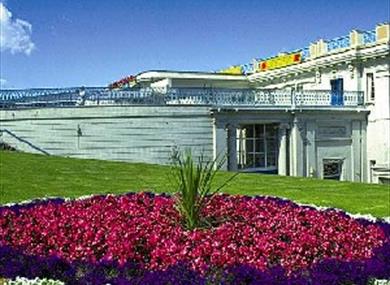 The Winter Gardens was opened on 3rd August, 1911 by the then Mayor of Margate, Alderman W. B. Reeve and this year celebrates its Centenary.
The history of municipal entertainments in this country can be traced back to Margate. Margate blazed the trail that others were to follow. From the time of the plans being approved and the cutting of the first sod by the then new Mayor of Margate Mr Booth Reeve, the Pavilion and Winter Gardens took just nine months to build at a cost of £26,000.00.
Thanet Leisureforce in conjunction with Thanet District Council have launching an appeal fund to raise money for this much loved landmark. Fund raising events will take place throughout the year and a range of Centenary merchandise will be launched very shortly. Check the event listings for information.
The Winter Gardens venue provides Hospitality and Leisure Services in Partnership with Thanet District Council. Two theatres, four bars, catering for up to 700 people, parties, plays and exhibitions.
Highly Commended for Pride in Thanet Tourism Awards for Team of the Year 2010
What's Nearby
Margate Museum is opened by a group of volunteers called the Friends of Margate Museum who work...

0.25 miles away

Turner Contemporary is a visual arts organisation, based in Margate that celebrates JMW Turner's...

0.26 miles away

Popular sandy bay approximately 200 meters long. Home to Joss Bay Surf School which hires surf...

2.71 miles away

South East England's premiere surf school. Established in 1998 we have given thousands of lessons...

3.19 miles away
Aircraft and exhibits illustrating the history of the airfield at Manston from 1916 to the present...

3.25 miles away

Once the home of Mary Pearson Strong, upon whom Charles Dickens based the character of Betsey...

3.34 miles away

World Class collections of African/Asian Natural History and Ethnography, weaponry- fine art and...

3.75 miles away

The ruins of a Roman fort and the landing place of the invasion of AD43. Fortified in the 3rdC by...

7.23 miles away

Prince's offers all that is best in modern golf: with its 27 holes of championship Links golf,...

7.42 miles away

A smock mill built 1760. Original wooden machinery, miller's cottage, domestic displays, granary...

8.12 miles away

The Secret Gardens are 3.5 acres of architectural and formal gardens by Sir Edwin Lutyens and...

8.27 miles away

A landmark church that still rings a curfew

St Peter's is the guardian of an ancient Sandwich...

8.3 miles away

River trips in the heart of Kent, on board the electric launch Ellen Mary.

9 miles away

This castle was built in 1540 as part of Henry Vlll's chain of coastal defences. See the Duke of...

13.2 miles away

The Aspinall Foundation's Howletts Wild Animal Park in Kent is a great day out for groups of all...

13.4 miles away

Let Dr Andrew Thomson be your guide to history and culture either side of the channel.

14.77 miles away
Previous
Next