The Gallery at Winchester Discovery Centre
Jewry Street
Winchester
Hampshire
SO23 8SB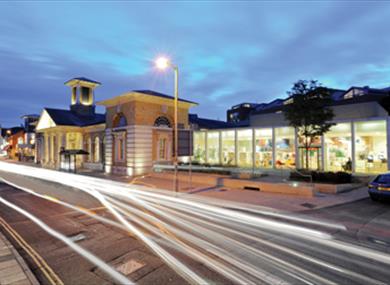 The Gallery is a stunning exhibition space designed to high security standards, allowing the display of material from the most important galleries, museums and private collections in the country.
The mixed programme features high quality touring exhibitions from national institutions, nationally and internationally renowned artists and treasures, and exhibitions drawing on the rich resources of the County.
There's more to enjoy throughout the award-winning building, including the City Space gallery, public library, theatre and cafe.
What's Nearby
Theatre Royal Winchester has been described as 'one of the most beautiful theatres in the south of...

0 miles away

The Winchester Discovery Centre is made up of a high quality library, exhibition space, art gallery...

0.02 miles away

Discover Winchester's Tudor and Stuart era in the last of the main medieval gates to the city.

0.18 miles away

Winchester Castle includes The Great Hall, The Round Table and Queen Eleanor's Garden - see...

0.2 miles away
Situated at the top of the High Street just to the left of The Westgate, The Great Hall and Sally...

0.2 miles away

The Great Hall is home to the legendary Arthurian Round Table, which has hung there since 1348.

0.2 miles away

Now over 900 years old, a priceless jewel in a scarcely less precious setting. See the tombs of...

0.29 miles away

Five splendid military museums on an historic site with Visitor Centre, café displays and...

0.31 miles away

A Millennium of milling history. Rebuilt in 1744 on an earlier medieval site, the working watermill...

0.5 miles away

Founded in 1382, Winchester College is believed to be the oldest continuously running school in the...

0.53 miles away

Children love them and they are a fun way to get the whole family, young and old, out and about in...

0.87 miles away

Cycle Tours UK invites you to try bicycle touring as a fresh approach to a healthy holiday. Cycle...

0.98 miles away

Medieval almshouses, church, ambulatory, Brethren's Hall and kitchen, Master's garden.

1.28 miles away


There are over 100 hands-on exhibits each one on a different aspect of science and technology, so...

2.28 miles away

Visit this Edwardian pumping station and find out how water was - and still is - extracted from...

3.13 miles away


This dazzling and colourful Victorian jewel of a church overwhelms the senses -it is a truly...

5.24 miles away
Previous
Next