Thames Path National Trail
National Trails Office, Countryside Access
Signal Court
Old Station Way
Eynsham
Oxfordshire
OX29 4TL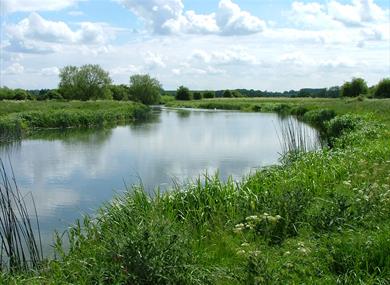 The Thames Path National Trail is a wonderful way to explore the River Thames. This long distance walking route starts at the source of the river in a field in the Cotswolds and follows the banks of the Thames for 184 miles (294km) through several rural counties before entering the City of London and finishing at the Thames Barrier in Greenwich. On its way the Trail passes through peaceful water meadows rich in wildlife, historic towns and cities such as Oxford, Henley and Windsor, many lovely villages and some of the best known landmarks of London.
The Thames Path is a gentle Trail, able to be walked by people of all ages and abilities. This National Trail can be enjoyed in many ways, whether for an afternoon's stroll, a weekend's break or a full scale, but relatively gentle, trek of its whole length. To walk the whole trail, using roughly 15 miles/24 Km a day as an average daily walking distance, the Trail can be completed in 14 days allowing for a couple of days' rest.
Geocaching
Geocaching is a free, fun way to explore new places or to take a different look at places you already know. It's a bit like a high-tech treasure hunt that anyone can join. There are lots of geocaches along the Thames Path and geocache trails for everyone, no matter how far you want to walk. If you have an account with geocaching.com (it's free to sign up) then you can find out more about the Thames Patch geocache trails.