Stoke Mandeville Stadium
Guttmann Road
Stoke Mandeville
Aylesbury
Buckinghamshire
HP21 9PP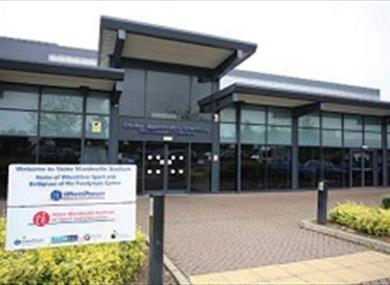 Stoke Mandeville Stadium, The National Centre fo Disability Sport, boasts the highest grade of facilities for our leading sportmen and women. The redevelopment of Stoke Mandeville Stadium has transformed the original sports centre into a state-of-the-art leisure complex to enable WheelPower to provide a venue of the highest quality for all users. Stoke Mandeville Stadium has become known as the 'home of disability sport.'
Little known facts:
1. The Stadium is the Birthplace of the Paralympic Games and the National Centrefor Disability Sport.
2. Stoke Mandeville Stadium was a Paralympic venue in 1984 and hosted the Paralympic Flame Festival that started the 2012 Paralympic Torch Relay.
Facilties include Badminton, 5 a-side football, Creche, Exhibition Area, Sauna & Steam rooms, Swimming Pool and Fitness Facilities.
The Centre also has accommodation - Olympic Lodge Hotel and Conference facilties.

Opening Times
Swimming pool

(01/01/2013 - 31/12/2013)

Day
Times
Monday

07:00

22:00

Tuesday

07:00

22:00

Wednesday

07:00

22:00

Thursday

07:00

22:00

Friday

07:00

22:00

Saturday

08:00

19:00

Sunday

08:30

20:00

Bank Holiday
Cafe Connect

(01/01/2013 - 31/12/2013)

Day
Times
Monday

10:00

18:00

Tuesday

10:00

18:00

Wednesday

10:00

18:00

Thursday

10:00

18:00

Friday

10:00

18:00

Saturday

10:00

18:00

Sunday

10:00

14:00

Bank Holiday
2013

(01/01/2013 - 31/12/2013)

Day
Times
Monday

07:00

22:00

Tuesday

07:00

22:00

Wednesday

07:00

22:00

Thursday

07:00

22:00

Friday

07:00

22:00

Saturday

07:00

22:00

Sunday

07:00

22:00
Harpers Gym

(01/01/2013 - 31/12/2013)

Day
Times
Monday

06:45

22:00

Tuesday

06:45

22:00

Wednesday

06:45

22:00

Thursday

06:45

22:00

Friday

06:45

22:00

Saturday

08:00

19:00

Sunday

08:00

20:30

Bank Holiday
What's Nearby
Come rain, shine, winter or summer, Cycle Tours Oxford provides genteel and picturesque,...

0.39 miles away

Offering over 70 weekly arts and crafts workshops, live comedy, music and theatre as well as...

0.89 miles away

The Aylesbury Waterside Theatre can be found in the heart of Aylesbury. Boasting a dynamic and...

1.12 miles away

Come and experience a day out to remember at Aqua Vale, where visitors are certain to have a fun...

1.18 miles away
Lively hands-on, innovative museum complex consisting of county heritage displays, regional art...

1.25 miles away

Go Ape is a tree-top adventure based in the heart of Wendover Woodland Park, near Aylesbury. Take...

1.47 miles away

Set in the grounds of Tiggywinkles Wildlife Hospital, is a chance to meet different wildlife and...

5.72 miles away

This National Trust property houses the Rothschild Collection of art treasures and wine cellars. It...

6.48 miles away

Cruise into the Chiltern Hills along a beautiful stretch of the Grand Union Canal. We offer 90...

6.61 miles away

A 17th century timber smock mill with original wooden machinery. Built in 1650 and restored during...

7.06 miles away

An unspoilt Medieval atmosphere

St Mary's is set on a hillside, below the Chiltern escarpment...

7.28 miles away

The Roald Dahl Museum and Story Centre, in Great Missenden is where Roald Dahl (1916-1990) lived...

7.79 miles away

Pay a visit to the oldest horse charity in the world, established in 1886 to help the working...

8.02 miles away

8.46 miles away

The 16th century wallpaintings installed in Thame Museum hold many fascinating clues to the past....

8.6 miles away

Walking Chilterns & UK, walks, tours and holidays. Get outdoors - It's for everyone. Enjoy walking...

10.36 miles away
Previous
Next