St. Barbe Museum and Art Gallery
New Street
Lymington
Hampshire
SO41 9BH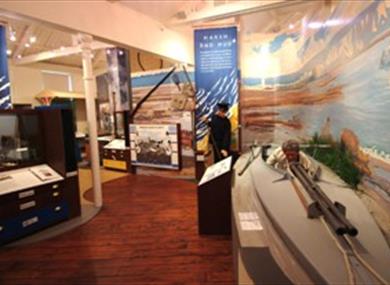 Take a journey....
- Discover the people, places and events that have made the New Forest coast unique with our colourful, hands-on displays.
- Enjoy a range of events including family activities, talks, workshops and concerts.
- Choose from the range of gifts and books in the museum shop.
- Experience some of the best art exhibitions in the south in our excellent art galleries.
Opening Times
Open

(1 Jan 2017 - 31 Dec 2017)

Day
Times
* Monday - Saturday 10am - 4pm.
Please note last entry 3.30pm.
Please phone for details of Christmas opening times.
Special Evening Openings
1st December - museum open until 7pm (2 for 1 entry)
8th December - museum open until 7pm (2 for 1 entry)
15th December - museum open until 7pm (free admission to coincide with Yuletide in Lymington)
5th January - museum open until 7pm (2 for 1 entry)
What's Nearby
Summer bus service offering a great way to explore the New Forest. Linking Lymington, Hythe,...

0.64 miles away

Fun for all the family: a fully life guarded open air sea water pool with swimming and lots of...

0.73 miles away

Excellent tours and walks in the New Forest and Dorset led by the best local, experienced, and...

2.09 miles away

Situated mid-Solent the Henry 8th Fortress prison of Charles 1st contains exhibits from all periods...

2.99 miles away
A Tudor Castle in a beautiful seaside town.

4.19 miles away

Colwell Bay is one of many picturesque beaches in West Wight, offer spectacular views back across...

4.76 miles away

Forest Arts Centre is the leading venue for live arts events in the New Forest. A former military...

5.16 miles away

Located in the heart of the New Forest on the Beaulieu Estate, activities for all the family – lead...

5.64 miles away

The 5th New Milton Pedal Car Grand Prix takes place on Sunday 14th July 2013.

5.67 miles away

A unique 18th Century village where warships for Nelson's Navy were built. Maritime museum,...

5.96 miles away

Come to Beaulieu in the heart of the New Forest and discover the many delights that one of the UK's...

6.01 miles away

Freshwater Bay is one of the most picturesque beaches in West Wight and lies just to the South of...

6.31 miles away

Set in an area of outstanding natural beauty overlooking The Needles Rocks and Lighthouse, there's...

6.4 miles away

The imposing memorial to Alfred, Lord Tennyson, the Victorian Poet Laureate, stands on the highest...

6.41 miles away

The crystal clear waters are a favourite for local swimmers and perfect for the children to paddle....

6.41 miles away

ALUM BAY:

Alum Bay is well known for its multi-coloured sand cliffs and the area is also...

6.45 miles away
Previous
Next