Pendon Museum
Long Wittenham
Oxfordshire
OX14 4QD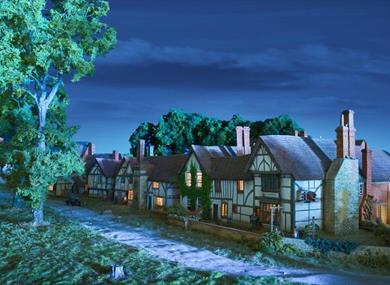 At Pendon we aim to recapture, in detailed and colourful miniature, scenes showing the beauty of the English countryside as it used to be in the years around 1930.
Realistically modelled cottages , farms, fields and lanes recall the peaceful country ways of that period. Cavalcades of trains, accurately represented, provide a fascinating record of the railways of the time. Pendon is being created entirely by volunteer modellers who work to the most exacting standards. The photograph above shows the work of the late Roye England, the Museum's founder. It is just one of the many fine model buildings in the Vale Scene.
Pendon is enjoyed by people of all generations and with many different interests. You can watch a fascinating collection of model trains go by on the Dartmoor Scene, or spend hours taking in the detail of the model village in the Vale Scene. Our volunteer staff is there to make your visit as enjoyable and informative as possible, and will be only too happy to tell you more about anything you see at the Museum.
Awards
Regional and Miscellaneous -

Tourism South East Member

2017
Opening Times
2017
(1 Jan 2017 - 31 Dec 2017)
What's Nearby
Range of medieval domestic buildings remaining from Abingdon Abbey.

3.44 miles away

We offer Self Drive Day Boats and Rowing Boats for hire on the River Thames.

3.51 miles away

The former County Hall for Berkshire dating from 1678, displays and interprets archaeological...

3.52 miles away

The MG Car Club is the original club for MG owners, based in the heart of MG country, Abingdon in...

4.06 miles away

Wallingford Museum is a colourful, delightfully intimate and family friendly local history museum,...

4.71 miles away

Known locally at "The Bunk" passenger services ceased in 1959. The railway aims to offer steam...

4.75 miles away

Former monastic buildings converted to 2 houses. The south cottage contains the Great Hall of the...

4.92 miles away


Oxford Proms-concerts with international soloists in Oxford's historic buildings from 7 – 17...

4.97 miles away

The Oxford Philharmonic Orchestra is one of the leading orchestras in the UK. Praised as...

6.19 miles away

Our day tours go into the oldest colleges including New College, founded in 1379 as seen in the...

6.78 miles away

Situated on over 500 acres of glorious undulating heathland, just south of Oxford city, Frilford...

6.82 miles away

Garden centre, farm shop, pick-your-own, trout fishery, munchery, restaurant, picnic area and play...

7.29 miles away
Previous
Next