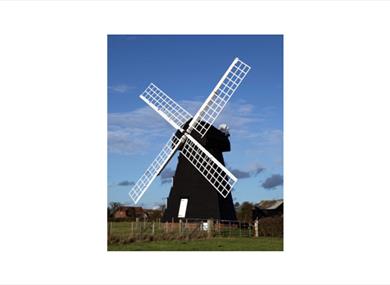 Lacey Green Windmill is England's oldest smock mill, with wooden machinery dating from around 1650. Since 1971 it has been restored to working order by members of The Chiltern Society. On National Mills Day (Sunday 12 May), the sails will turn, weather permitting. Lacey Green is two miles south of Princes Risborough and on open days the windmill is signposted from the A4010. Please park in Pink Road and walk up the path on the right hand side of the Whip public house. Buses on route 300 (Aylesbury/High Wycombe) stop at The Whip.
For further details please see website.

Little known facts:
1.The windmill's original wooden machinery is believed to be the oldest of its type in the country, at around 360 years old.
2. In the 19th Century, new machinery was fitted to improve efficiency, including patent sails, smutter, bolter, governor and fantail to keep the main sails facing into the wind at all times.
3.The windmill stopped working in around 1915, a time when many mills fell out of use.

Due to the nature of the historic listed building, access is very restricted for wheelchair users. However a folder of information and photos is available to view.
What's Nearby
Pay a visit to the oldest horse charity in the world, established in 1886 to help the working...

1.37 miles away


Picturesque village in the Chiltern hills

Scenic village with cottages clustered around a...

2.43 miles away


We are a standard gauge railway operating both steam and diesel hauled train services from our...

3.87 miles away


The elegant Palladian home of the Dashwood family and historic village

West Wycombe Park is one...

4.18 miles away
The Roald Dahl Museum and Story Centre, in Great Missenden is where Roald Dahl (1916-1990) lived...

4.27 miles away

Victorian home of Prime Minister and statesman Benjamin Disraeli from 1848 until his death in 1881.

4.26 miles away

The Roald Dahl Trail reveals the secret of where to go and what to see for an absolutely squiffing...

4.63 miles away

Caves dug into chalk hillside extending to approximately 0.75 mile. Enter through a flint forecourt...

4.67 miles away

Kraft Village
High Wycombe Chair Making Museum exhibits tools used in making 4,700
chairs a day in...

4.82 miles away

Escorted day visits in spacious 7-seater air-conditioned vehicles. There are seven different...

6.1 miles away

Set in the grounds of Tiggywinkles Wildlife Hospital, is a chance to meet different wildlife and...

6.42 miles away

Stoke Mandeville Stadium boasts the highest grade of facilities for our leading sportsmen and women...

7.06 miles away

This Go Ape course is set high up on the Northern crest of the Chiltern escarpment. You can enjoy...

7.65 miles away

Offering over 70 weekly arts and crafts workshops, live comedy, music and theatre as well as...

7.93 miles away

The 16th century wallpaintings installed in Thame Museum hold many fascinating clues to the past....

7.92 miles away

The Aylesbury Waterside Theatre can be found in the heart of Aylesbury. Boasting a dynamic and...

8.02 miles away
Previous
Next