Hardwick Parks Watersports Centre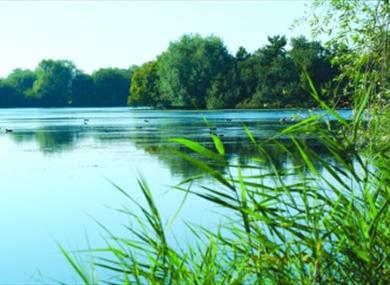 There's no better day out than one on the water!

The watersports centre is located between two lakes with a 51 acre lake as the general watersports lake. There are a wide variety of watersports available both on a board and on your feet! Suitable for all ages and abilities, you can try out your skills on a pair of waterskis, a wakeboard, kneeboard or just go without a support at all and attempt barefooting! Just have fun, or improve your technique and learn tricks and jumps with a qualified, experienced coach. Ringo rides are a wonderful way to introduce kids to the joys of watersports. More exciting than any fairground ride, ringos offer thrills, spills, fun and laughter not just for the kids – adults find them irresistible too!
What's Nearby
The Cotswold stone farm buildings grouped around the farmyard and the manor house beyond provide a...

3.52 miles away

Guided tours of the brewery every Saturday and Sunday afternoon. The tour lasts approximately 45...

3.71 miles away

Bampton Garden Plants started out as a small plant sale that occurred a couple of times a year...

4.49 miles away

West Ox Arts is situated in a lovely, spacious gallery on the first floor of the Grade II listed...

4.74 miles away
Situated on over 500 acres of glorious undulating heathland, just south of Oxford city, Frilford...

5.31 miles away

The Spa at Witney Lakes Resort provides you with the chance to taste the exotics as well as adding...

5.31 miles away

Garden centre, farm shop, pick-your-own, trout fishery, munchery, restaurant, picnic area and play...

5.35 miles away


Come and join us on a great day out with photo opportunities, feeding displays, crocodile talks...

5.39 miles away

As well as over 30 buses on display, there are other numerous exhibits adding a period feel....

6.48 miles away

Crafting the perfect day out - Enjoy a unique experience enjoying truly elegant travel.

7.24 miles away

City Study Tours offers international visitors to the UK the opportunity to explore and experience...

7.32 miles away

A series of events held in Didcot

7.34 miles away

Oxford, famous for its Universities and the dreaming spires is home to one of Britain's largest...

7.36 miles away

If you thought Oxford was just about elegant spires and world-class academia then think...

7.44 miles away

Open top bus tours of Oxford and the Historic University. Tickets valid all day. All major sights...

7.46 miles away

Welcome to Oxford Castle, Oxford's oldest new quarter! The site was once home to the Norman Oxford...

7.5 miles away
Previous
Next