Gunwharf Quays
Gunwharf Quays Management Ltd
Centre Management Suite, Gunwharf Quay
Portsmouth
Hampshire
PO1 3TZ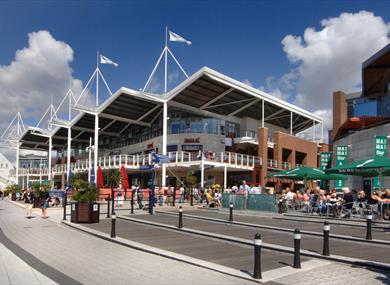 One of the South Coast's most popular shopping destinations, Gunwharf Quays is filled with almost 100 designer stores and boutiques and is sure to offer something for every taste and budget.
Set near the historic dockyards and old town of Portsmouth, you can meander through bustling streets in Gunwharf Quays while live music, street theatre or one of many seasonal festivals keeps the atmosphere buzzing.
Gunwharf Quays isn't all just about shopping though. The area has become a leisure and activity complex with a huge range of things to do. Catch a film at the 14-screen VUE Cinema or tickle your funny bone at Jongleur's Comedy Club. Have a game of bowling or check out the contemporary art gallery before heading to one of over 30 pubs and restaurants.
For you nightowls out there you can join the party at Tiger Tiger or bring out their inner James Bond at the casino. Stay the night at the on site hotel, then work off some calories at the health and fitness club!
Opening Times
Gunwharf Quays

(01/01/2013 - 31/12/2013)

Day
Times
Monday

10:00

19:00

Tuesday

10:00

19:00

Wednesday

10:00

19:00

Thursday

10:00

19:00

Friday

10:00

19:00

Saturday

09:00

19:00

Sunday

10:00

17:00
What's Nearby
Year-round programme of solo, group and themed exhibitions of contemporary visual art, accompanied...

0.09 miles away

Soaring 170 metres into the sky, the Spinnaker Tower offers spectacular views over the south coast....

0.1 miles away

Round Tower

One of Portsmouth's oldest permanent fortifications.

0.41 miles away

The City Museum is the Museum of and for the people of Portsmouth with exciting and varied displays...

0.43 miles away
Royal Garrison Church

Church built in 1212. Destroyed by fire bombs on 10 January 1941, but the chancel survived. King...

0.46 miles away

Go onboard our submarines with a submariner to hear his stories about living beneath the waves....

0.85 miles away

In Gosport town centre you will find The Discovery Centre, where there is a surprising range of...

0.88 miles away

Gosport Gallery hosts a wide variety of exhibitions and events from shows of the finest local...

0.88 miles away

SEARCH is Hampshire Museum's Hands-on Centre for History and Natural Sciences.

0.91 miles away

Small terraced house of 1805 in which the famous novelist was born and lived for a short time....

1.06 miles away

New £27m Mary Rose Museum open 31 May 2013: The famous Tudor warship to finally reveal all her...

1.2 miles away

Enter the Blue Reef Aquarium and take a safari from the depths of the Solent to the tropical coral...

1.21 miles away

The D-Day Museum was opened in 1984 to commemorate the 40th anniversary of D-Day. Its centrepiece...

1.26 miles away

Built in 1544, the Castle was part of a series of fortifications constructed by Henry VIII around...

1.4 miles away

Eastney Beam Engine House contains a pair of James Watt beam engines and reciprocal pumps restored...

2.58 miles away

A Roman-Saxon shore fort with Norman additions. A near-perfect keep and Norman church within the...

2.92 miles away
Previous
Next