Finchampstead Ridges and Simons Wood's
Finchampstead Memorial Hall
The Village
Wokingham
Berkshire
RG40 4JU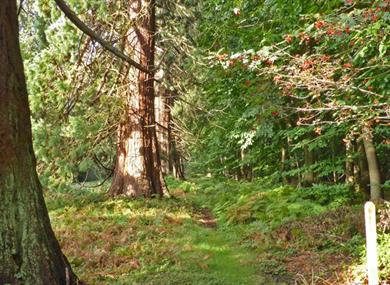 Finchampstead Ridges is a beautiful stretch of land, comprising of woodlands and a heather ridge. Located on the B3348 between Crowthorne and Finchampstead, the area was bought in 1913 after a public appeal, making it one of the earliest National Trust properties. Between thick, luscious trees, visitors are afforded glimpses across the striking Blackwater valley.
Simons Wood is nearby, just off Wellingtonia Avenue. The woods and the adjoining Heath Pond were partly given by Mr C G H Simon, and partly acquired in the will of Mr Roy Brooks. Both the woods and pond are worth a visit, presenting you with the perfect setting for exceptional nature photographs.
Finchampstead Ridges and Simons Woods are both outstanding areas of natural beauty, so take time to come see for yourself – you'll be glad you did!
Awards
Regional and Miscellaneous -

Tourism South East Member

2017
Opening Times
2017
(1 Jan 2017 - 31 Dec 2017)
* Always Open
What's Nearby
The Passenger Boat Association represents operators of passenger vessels along the length of the...

0.87 miles away

One-hundred-and-fifty acres of beautiful and varied countryside, Longmoor Nature Reserve, 6-acre...

1.09 miles away

Trilakes Country Park incorporates an animal park, nationally renowned fishing lakes, cafe and a...

1.97 miles away

476 acres of heathland, woodland, grassland and ponds providing walking, cycling and fishing in...

2.65 miles away
We offer a wide range of goods and services and a fabulous tea shop in a historic barn opening onto...

3.03 miles away

Monkey Mates is a children's indoor soft play facility with an outdoor playground. We have an...

3.58 miles away

Wellington Country Park, between Reading and Basingstoke, offers an ideal destination for all the...

3.92 miles away

Christmas Sale 2for1 on selected all-inclusive spa experiences*

4.16 miles away

Quintessentially English manor house garden combining neo-classical style with flamboyant...

5.06 miles away

The Camberley Theatre is a 408 seated modern venue offering a programme of high quality music,...

5.49 miles away

Go Ape Tree Top Adventure

The UK's number 1 Tree Top Adventure has swung into a forest near...

5.57 miles away

If you are looking for a fun day out, then The Look Out Discovery Centre is worth a visit with over...

5.59 miles away

A 350-acre site with meadows, fishery, watersports and conservation lakes. Three bird hides,...

5.62 miles away

Exciting leisure pool with 3 giant water slides, pirate ship, erupting volcano and water rapids. ...

5.8 miles away


15th-century chapel, restored by Gilbert Scott in 1875

Peruse the second hand books in...

5.89 miles away

Aircraft, archives, photographs, related aviation items and uniforms housed in an historic hangar...

6.24 miles away
Previous
Next