East Head West Wittering
Snow Hill
West Wittering
Chichester
West Sussex
PO20 8AT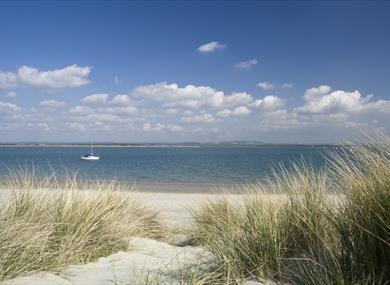 One of the fastest moving sand and shingle spits in the United Kingdom
East Head, in West Sussex, is one of the last surviving pieces of natural coastline in Sussex; a treasured example of the nationally rare and fragile, yet dynamic, sand-dune habitat.
Considered one of the best beaches in Sussex, it's an ideal place to walk, play and sunbathe. Or just admire the yachts which anchor off the northern end, where you may spot the occasional seal.
There are several distinct habitats - shingle, sandy foreshore, then a dune succession from embryo, through yellow and grey, finishing with salt-marsh. Each are fascinating to study and are particularly suitable for geography projects.
Specially adapted maritime plants such as the tough-leaved Sea Holly and Sea Bindweed grow through the sand, their vibrant colours can be seen throughout the summer. The distinctive Maram Grass needs burial by shifting sands to enable it to grow.
Landward of the dunes is salt-marsh, one of rarest habitats in the south. In winter it is home to many migrant wildfowl such as Sanderling, Redshank and Godwits. Plants here include the common and the rarer Lax-Flowered Sea Lavender and Glasswort, the ashes of which were once used in the glass making process.
Bosham quay, 6 miles away by boat, is reputedly the site where King Canute proved that he couldn't command the sea to stop. With one of the oldest churches in Sussex nearby, it makes an ideal wedding party location.
Awards
Regional and Miscellaneous -

Tourism South East Member

2017
Opening Times
2017
(1 Jan 2017 - 31 Dec 2017)
What's Nearby
West Wittering is situated on the western coast of the Selsey Peninsula and has a large expanse of...

0.37 miles away

Chichester Harbour is an Area of Outstanding Natural Beauty including the harbour and surrounding...

2.45 miles away

Three attractions in one!. Tropical butterflies, exotic birds and theme garden. There is a picnic...

3.13 miles away

The Hayling Seaside Railway runs from Beachlands to Eastoke - fun for all.

3.68 miles away
Real seaside fun for all the family. Funlands Amusement Park is situated right next to the Blue...

3.7 miles away


Hayling Island has over 3 miles of beaches along the seafront facing the Solent and many more...

3.74 miles away

Entertainment all year round.

4.11 miles away

My studio gallery is located in Bosham, on the shores of Chichester Harbour, an Area of Outstanding...

4.32 miles away

Row the only Cornish Pilot Gigs in Hampshire! Six-oared boats providing safe, stable rowing for all...

5.24 miles away

Remains of the largest Roman domestic residence in Britain. Beautiful mosaics, museum, audio visual...

5.63 miles away

The Spring has a broad programme of entertainment including theatre shows, music, comedy nights,...

5.86 miles away

Eastney Beam Engine House will be open free of charge on certain weekends. There will be some...

6.28 miles away

There are more than 4000 stars and other celestial objects in the skies of the South Downs...

6.34 miles away

Bishop's Palace Gardens is situated within the City Walls, next to the Cathedral. And it has now...

6.48 miles away

Discover intriguing stories from Chichester District connected with extraordinary artifacts in a...

6.6 miles away

In the heart of Chichester, a magnificent Cathedral with treasures ranging from medieval stone...

6.61 miles away
Previous
Next