Diggerland
Adventure Park / Playground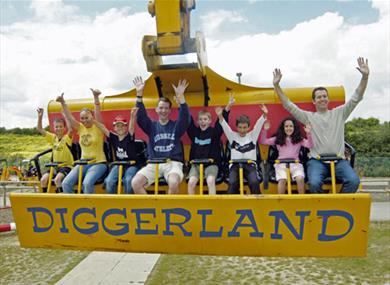 Fun, original and just a little wacky, Diggerland Kent is sure to provide one of the most memorable family days out in South East England.
At Diggerland Kent you can take control of one of dozens of full-size diggers and dump trucks, as well as other huge mechanical beasts. Children can ride on everything from go-karts and mini-tractors, to dodgems and miniature trains.
For the more adventurous, hold on tight as the Sky Shuttle propels you 50 feet upwards, or the Spin Dizzy turns you around in mid-air. You can even arrange to learn how to drive a real JCB or join a pre-booked racing circuit.
Once you've enjoyed the rides, try your hand at using diggers to scoop out hidden treasure or test your skills with the JCB robots. With cafés and restaurants on-site, it's a crammed-pack day of fun for everyone!
Find out more about Sussex or see other attractions and places to visit in the county.
What's Nearby
Discover the history of Medway from pre-historic times to the present day at the Guildhall Museum...

0.61 miles away

Consecrated in AD604, the present building dates from 1080. A blend of Norman and Gothic...

0.71 miles away

One of the finest keeps in England. Also the tallest, partly built on the Roman city wall. Good...

0.71 miles away

The Huguenot Museum tells the story of Britain's first refugees: the skills they brought to the UK,...

0.74 miles away
Previous
Next