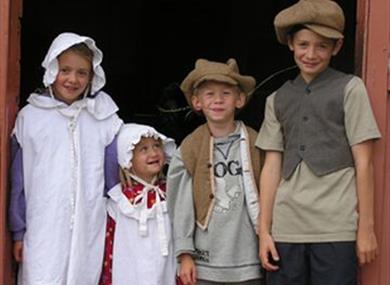 Looking for somewhere to go with the kids? Why not take them time travelling? Join us at the Chiltern Open Air Museum for a hands-on journey through 2,000 years of living history, captured perfectly through our exciting events programme and in our collection of genuine historic buildings.

Little Known Facts:
1. The Museum houses over 30 reconstructed traditional Chilterns' buildings covering 2000 years of history from the Iron Age to Second World War, including a newly reconstructed Wychert (limestone earth) cottage from Haddenham in the Aylesbury Vale. To our knowledge, no one has built a wychert cottage since the 1930s. Also our new Information Centre is housed in Astleham Cottage, reputed to be one of Henry VIII's hunting lodges.
2. The Museum holds over 25 themed events each season including Medieval Knights, the Roman Army, Classic Vehicles, crafts and Halloween. At our heavy Horse events did you know you can see Shire Horses, Percheron, Clydesdale and Belgian?
3. The Museum has been used recently for many film locations including Downton Abbey which featured Chiltern Open Air Museum, Horrible Histories, Call the Midwife and Midsomer Murders in 2011.

Find us on Facebook and Twitter.
Find out more about Buckinghamshire or see other attractions and places to visit in the county.
See here for Museums in the South East.
Awards
Tourism South East Award -

13/14 Gold Award - Beautiful South Awards for Excellence

2013
What's Nearby
Black Park - lakeside cafe, disabled access, walks, horse riding, orienteering. Langley Park -...

5.94 miles away

Guaranteed to give you the Ahhhh factor, there's stacks of animal fun and indoor play at award...

6.52 miles away

Go Ape is a tree-top adventure based in the heart of Black Park Country Park, near Slough. Take to...

6.8 miles away


1930s-style garden, with herbaceous borders, cottage garden and lily pond

Did you...

7.17 miles away

This Grade 1 registered Garden of Remembrance contains formal and informal water features, a...

7.27 miles away

Frogmore Paper Mill is the world's oldest mechanised paper mill, the birthplace of paper's...

7.84 miles away


Glorious gardens overlooking the River Thames

Set high above the Thames with far-reaching...

8.1 miles away

The Roald Dahl Trail reveals the secret of where to go and what to see for an absolutely squiffing...

8.54 miles away

We offer individuals, groups and corporate guests, a unique opportunity to get behind the wheel of...

8.64 miles away

The Roald Dahl Museum and Story Centre, in Great Missenden is where Roald Dahl (1916-1990) lived...

8.83 miles away

The Stanley Spencer Gallery is devoted to the work of one of Britain's greatest painters, Sir...

8.85 miles away

Victorian home of Prime Minister and statesman Benjamin Disraeli from 1848 until his death in 1881.

9.25 miles away
Previous
Next