Buscot Park
Buscot
Faringdon
Oxfordshire
SN7 8BU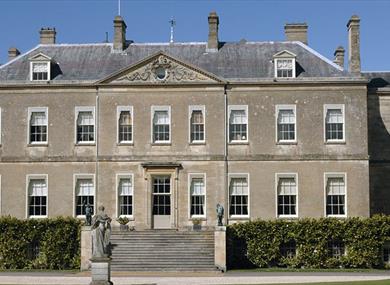 Buscot Park was built between 1780 and 1783 for Edward Loveden Townsend. In 1859 his great-grandson sold the estate to an Australian tycoon, Robert Tertius Campbell.
He died in 1887 after spending a fortune turning Buscot into a model agricultural estate. In 1889 Buscot was sold to a highly successful business financier, Alexander Henderson, later the 1st Lord Faringdon and his descendants continue to live here.
At Buscot Park you will find exquisite gardens, including the spectacular Water Garden designed by Harold Peto for the 1st Lord Faringdon at the beginning of the 20thC and the Four Seasons Walled Garden created by the present Lord Faringdon at the end of the century. You can wander through woodland walks, rest awhile in the circular Swinging Garden and perhaps catch a glimpse of some of the many species of birds which breed on the estate.
The fine late-18thC house is home to The Faringdon Collection, a treasure trove of art and design. Begun by Sir Alexander Henderson, later the 1st Lord Faringdon, and exclusively added to by his grandson, Gavin, the 2nd Lord, the collection contains an extraordinary array of pictures, furniture and objets d'art. Old Master paintings by Rembrandt, Rubens and Murillo mingle with Victorian pictures by Leighton, Rossetti Watts and Burne-Jones, including the latter's famous 'Briar Rose' series illustrating the story of Sleeping Beauty. Furniture by designers such as Robert Adams and Thomas Hope provide splendid display settings for both period and contemporary ceramics, sculpture and objets d'art. Unlike most country house collections, the Faringdon Collection is not frozen in time.
The present Lord Faringdon continues to acquire new works of art both antique and modern. He has also recently restored the small purpose-built theatre which is regularly used for concerts, recitals, plays and corporate hospitality.
Awards
Visit England Awards -

Code of Practice

2012

Regional and Miscellaneous -

Tourism South East Member

2017
Opening Times
2018
(1 Apr 2018 - 30 Sep 2018)
* The grounds are open from 2.00pm to 6.00pm
The House opens at 2.00pm, and last entry in to the House is 5.00pm
Prices
Entry Prices:
House and Grounds:
Adult - £10
Over 65s - £8
Child (5-15) - £5
Under 5s - Free
NT Member - Free

Grounds Only:
Adult - £7
Over 65s - £5
Child - £3.50
Under 5s - Free
NT Member - Free
What's Nearby
An early 18thC house of Cotswold stone, set on the banks of the Thames and with a small garden.

0.42 miles away

The summer home of William Morris, Kelmscott Manor is a Grade I listed farmhouse, built around 1600...

1.47 miles away

Trout and fly fishing. First organic Trout farm in the UK.

2.3 miles away

Make a day trip to see these traditional agricultural estates with villages, farms and woodland.

2.51 miles away
Thirteenth-century monastic stone tithe barn with interesting timber construction.

3.44 miles away


The last folly to be built in England in 1935 stands at 104ft and offers extensive views of the...

4.06 miles away

The splendid 18th century buildings, in the idyllic setting of the tranquil village of Filkins,...

4.27 miles away

Farmer Gow's ~ the 'favourite place on earth' for lots of its young visitors.

5.08 miles away

West Ox Arts is situated in a lovely, spacious gallery on the first floor of the Grade II listed...

6.27 miles away

Bampton Garden Plants started out as a small plant sale that occurred a couple of times a year...

6.44 miles away

One of Oxfordshire's top attractions and one of the most beautiful zoological collections in the...

6.72 miles away

Pay a visit to this ancient rolling downland, home to an enigmatic chalk hill figure!

8.31 miles away

A working flour mill producing flour for bakeries and home baking.

9.46 miles away

The Spa at Witney Lakes Resort provides you with the chance to taste the exotics as well as adding...

9.54 miles away

McArthurGlen's Swindon Designer Outlet is housed in the beautifully renovated Grade II listed...

9.75 miles away


Unusual Dutch-style house on the Berkshire Downs

This extraordinary building with a...

10.52 miles away
Previous
Next