Alfriston Clergy House
The Tye
Alfriston
Polegate
East Sussex
BN26 5TL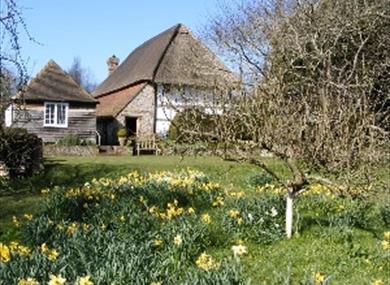 The Clergy House is remarkable as an ordinary house surviving from the 14th century. It was probably built for a farmer but became the property of the church, which is how it gets its name. By the 1890s, it was virtually derelict. It would have been lost forever, but for the efforts of Reverend Beynon who persuaded the newly formed National Trust to buy & restore it in 1896.
One of the beams in the Main Hall features an oak leaf carving which may have been the inspiration for the National Trust logo. The floor in the hall is made of an unusual mixture of chalk and sour milk.
The cottage style garden was laid out by Sir Robert Witt, the tenant in the 1920s and developed by the National Trust over the years. The most asked about tree is the 100 year old Judas tree on the top lawn.
You can also visit the excellent shop.
Explore the delightful garden and savour the idyllic setting beside Alfriston's parish church with stunning views across the meandering river Cuckmere.
For the latest prices and opening times please visit the National Trust website.
Awards
Visit England Awards -

Code of Practice

2012
What's Nearby
Widely regarded as the best small zoo in the country Drusillas Park offers an opportunity to get...

1.22 miles away

Charleston, the home of the artists Duncan Grant and Vanessa Bell (sister of Virgina Woolf), became...

2.82 miles away

Seaford Bay

This is a quiet, mainly shingle beach. Seaford town centre is a 10 minute walk away. The scenery of...

3.6 miles away

CLOSED FOR 2012
A Tudor house with Georgian additions in downland park setting. Important English...

3.94 miles away
Knowledge is our key to your perfect party!!!

Heaps of activities, superior stag and hen...

4.09 miles away

The Seven Sisters Sheep Centre has one of the largest collections of sheep in the world with over...

4.32 miles away

Planet Earth at Paradise Park is the perfect day out for all ages. Discover the fascinating world...

4.49 miles away

Enter through the 14th-century gatehouse and wander the beautiful gardens or tour the historic...

4.58 miles away

Situated at the base of the chalk cliffs called the Seven Sisters. Shingle giving way to sand with...

4.74 miles away

Families are promised an exciting day out at this award winning attraction. Life-size exhibitions...

4.75 miles away

Surf, go rock pooling or relax in the sun at Birling Gap and the Seven Sisters.

4.81 miles away

Come rain and shine, enjoy a fun action-packed family visit. The Park offers a wide range of...

5.14 miles away

Towner, the contemporary art museum, is Eastbourne's new art gallery and centre for the visual arts...

5.32 miles away

There is a 110 metre ski and snowboard slope. A nursery slope using the safer surface 'Powderpac'.

5.37 miles away

Unique holidays in Southern England, brought to you by Tudor History Tours, who offer an unrivalled...

6.02 miles away

See over 100,000 exhibits collected during the past 50 years, with room-settings, old shops and...

6.21 miles away
Previous
Next