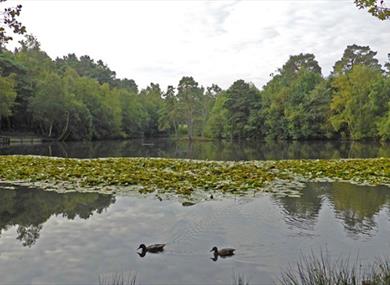 Wokingham is a market town and civil parish in Berkshire It is about 7 miles east-southeast of Reading and 4 miles west of Bracknell.
Wokingham means 'Wocca's people's home'. Wocca was apparently a Saxon chieftain who would also have owned lands at Wokefield in Berkshire and Woking in Surrey. During the Tudor period, Wokingham was well known as a producer of silk. Some of the houses involved in these cottage industries are still to be seen in Rose Street.
Things to do in Wokingham
Holme Grange Craft Village is located in beautiful countryside – and yet is within one mile of Wokingham Town Centre. They offer a wide range of goods and services and a fabulous tea shop in a historic barn opening onto a beautiful enclosed courtyard where you can sit and relax while you enjoy your refreshment.
If you're looking for something to do with the kids then Wokingham offer an indoor and outdoor play facility called Monkey-Mates. The main area consists of ball pools and slides and various challenging units. The outdoor area contains a roundabout, swings, an extensive climbing frame also springy rides and a seesaw.
Finchampstead Ridges and Simons Woods is sistuated in the heart of Wokingham and provides a peaceful experience for visitors. Finchampstead Ridges is a beautiful stretch of land, comprising of woodlands and a heather ridge. Simons Wood is nearby, just off Wellingtonia Avenue. The woods and the adjoining Heath Pond were partly given by Mr C G H Simon, and partly acquired in the will of Mr Roy Brooks. Both the woods and pond are worth a visit, presenting you with the perfect setting for exceptional nature photographs.
If you're looking for a pampure then look no firther than Nirvana Spa with 6 pure, natural spring-fed pools, with water clean enough to drink.
What's Nearby
We offer a wide range of goods and services and a fabulous tea shop in a historic barn opening onto...

2.7 miles away

One-hundred-and-fifty acres of beautiful and varied countryside, Longmoor Nature Reserve, 6-acre...

3.27 miles away

Cellar shop, open Tuesday to Sunday, situated in restored Victorian greenhouse. Wine by the glass...

3.36 miles away


Finchampstead Ridges is a beautiful stretch of land, comprising of woodlands and a heather ridge...

4.28 miles away

The Passenger Boat Association represents operators of passenger vessels along the length of the...

4.53 miles away

MERL houses one of England's most fascinating collections relating to life and work in the...

4.76 miles away

Trilakes Country Park incorporates an animal park, nationally renowned fishing lakes, cafe and a...

5.01 miles away


15th-century chapel, restored by Gilbert Scott in 1875

Peruse the second hand books in...

5.06 miles away

John & Jack Patey welcome you to their family run business, established in 1971.

5.3 miles away

Thames Valley Wine School offers tutored wine tastings for people to get more out from their glass!...

5.32 miles away

Twelve hands-on galleries including Roman Silchester, changing art gallery, Box Room, Britain's...

5.43 miles away

Go Ape Tree Top Adventure

The UK's number 1 Tree Top Adventure has swung into a forest near...

5.5 miles away
Previous
Next