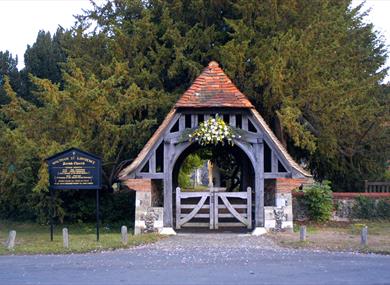 One of the most westerly parishes in the borough, Waltham St Lawrence includes the hamlets of West End and Shurlock Row and contains many fine examples of domestic architecture.

The village is centred on its cattle pound, around which are many picturesque houses and cottages. These include the half-timbered Bell Inn, which in 1608 was donated by Ralph Newbery to a charitable trust for the benefit of the poor and which gives rise to the saying that it is the only place where "beer is sold by the pound".

The adjacent church was mentioned in the Domesday Book and is, in parts, 850 years old, although very much altered in subsequent periods. It contains an interesting marble monument to Sir Henry Neville (1593) and his wife, both kneeling under canopies. Sir Henry was involved in Essex's plot of rebellion against Elizabeth I and was consequently imprisoned in 1600 and fined £5000. With James I's accession to the throne he was released from the Tower of London and played a prominent part in British politics.

The churchyard is entered through a magnificent lychgate erected in memory of Rear Admiral Wodehouse and over which hangs a massive yew tree planted in 1655 by the Vicar, Thomas Wilkinson.

The village has connections with the printing world. It is the birth (and burial) place of John Newbery who, in 1744, published the first book specially written for children, titled 'A Pretty Little Pocket-Book'. It was also in Waltham St Lawrence that Harold M Taylor founded the famous Golden Cockerel Press in 1920.


What's Nearby
Established in 1896 Maidenhead Golf Club is a mature course set in lovely rolling parkland where...

4.02 miles away

Aircraft, archives, photographs, related aviation items and uniforms housed in an historic hangar...

4.06 miles away

A 350-acre site with meadows, fishery, watersports and conservation lakes. Three bird hides,...

4.08 miles away

Welcome to Henley Golf Club in Oxfordshire, a traditional member's club, situated just a few miles...

4.46 miles away

We work with many companies to deliver an experience above and beyond the expectations of our...

4.52 miles away

A unique, award-winning museum with galleries dedicated to rowing, the River Thames and the town of...

4.58 miles away

Fly a Spitfire simulator at this local museum which covers local history from the Romans to Racing...

4.61 miles away

Imagine painting and sketching while cruising the beautiful River Thames on a vintage Dutch Barge....

4.73 miles away

Hobbs of Henley – the best in boating since 1870.

Hobbs provides a variety of ways to enjoy...

4.9 miles away

Hobbs and Sons Ltd (now named Hobbs of Henley Ltd) was established in 1870 and has continued to...

4.9 miles away

Bisham Abbey National Sports Centre, owned and managed by Sport England, is one of the prinicipal...

4.93 miles away

Bray Marina is situated in a country park setting, providing berth holders with a delightfully...

5.34 miles away
Previous
Next