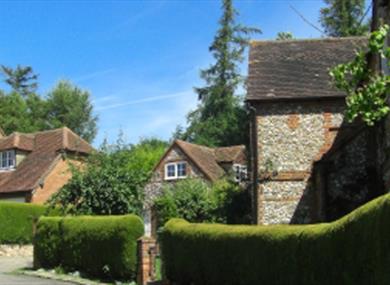 Speen is a small, vibrant village perched "on top of the Chilterns". It enjoys a strong village community spirit and is noted for its typical Buckinghamshire brick-and-flint architecture as well as the famous The Horse Trust's Home of Rest for Horses which is located nearby.
The village name is Anglo Saxon in origin, and means 'wood chips'. This refers to the location of the hamlet in the Chiltern Forest where trees are likely to be felled fairly regularly.
The nearby Home of Rest for Horses is the place where some horses in royal or military service are retired to when they get too old or become injured. Many of the horses that were injured when the IRA bombed the Royal Horse Guards in the early 1980s were brought here (Sefton being the most famous), and the stables have become a popular tourist attraction for animal lovers.



What's Nearby
Pay a visit to the oldest horse charity in the world, established in 1886 to help the working...

0.91 miles away

A 17th century timber smock mill with original wooden machinery. Built in 1650 and restored during...

1.77 miles away


Picturesque village in the Chiltern hills

Scenic village with cottages clustered around a...

2.35 miles away

The Roald Dahl Museum and Story Centre, in Great Missenden is where Roald Dahl (1916-1990) lived...

2.63 miles away
The Roald Dahl Trail reveals the secret of where to go and what to see for an absolutely squiffing...

2.99 miles away

Victorian home of Prime Minister and statesman Benjamin Disraeli from 1848 until his death in 1881.

3.06 miles away


The elegant Palladian home of the Dashwood family and historic village

West Wycombe Park is one...

3.86 miles away

Kraft Village
High Wycombe Chair Making Museum exhibits tools used in making 4,700
chairs a day in...

4.01 miles away

Caves dug into chalk hillside extending to approximately 0.75 mile. Enter through a flint forecourt...

5.37 miles away


We are a standard gauge railway operating both steam and diesel hauled train services from our...

5.58 miles away

Amersham Museum is located in the oldest house in Amersham. The museum has a collection of objects,...

7.02 miles away

Take a dip in a virtually chemical free crystal clear outdoor swimming pool at a constant 84...

7.26 miles away

Stoke Mandeville Stadium boasts the highest grade of facilities for our leading sportsmen and women...

7.57 miles away

This Go Ape course is set high up on the Northern crest of the Chiltern escarpment. You can enjoy...

7.83 miles away

Escorted day visits in spacious 7-seater air-conditioned vehicles. There are seven different...

7.83 miles away

Bekonscot Model Village and Railway is the world's oldest and original model village, opening for...

7.91 miles away
Previous
Next