Rye
Rye's ancient medieval streets are clustered around a sandstone hillside, overlooking the meandering River Rother and Romney Marsh. this relaxed, historic and picturesque little East Sussex town is a wonderful place for a peaceful holiday break.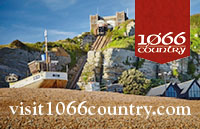 Hundreds of years ago, Rye was surrounded on all sides by water. It formed part of the medieval Cinque Ports with the town's hilltop vantage point useful for detecting and repelling marauding invaders. Today, you can explore cobbled alleys lined with untouched historic buildings – from medieval relics to beautiful Georgian houses. Ypres Tower, built in 1249 to defend the town, is still open for viewing.
Rye has managed to retain most of its charm and heritage – as well as a sense of the strange! Walk along Mermaid Street and you'll come across houses with names like "The House Opposite", or the "House with Two Front Doors".
You can also see the remnants of Rye's smuggling past throughout the 18th and 19th Centuries, with networks of tunnels, secret passages and hidden caves. A long-time favourite with poets, artists and craftspeople, Rye is a unique, stunning and inspirational place for a short break, or a longer holiday.
Things to see and do in Rye...
Rye Castle Museum has a number of fascinating exhibitions about local history and archaeology.
Head out of town and relax on the fine beaches of Camber Sands or visit one of the finest gardens in South East England at Great Dixter House & Gardens.
Built by King Henry VIII nearly 500 years ago, visit nearby Camber Castle for some fantastic views of the surrounding countryside.
For the latest information, download the Rye Visitor Guide

Rye Harbour Nature Reserve, wildlife and habitats, history and landscape, bird hides and walks beside the sea, has been voted UK's top nature reserve by the readers of Land Love Magazine in 2016.
What's Nearby
The scenic route this canal takes is perfect for walking and cycling. Dug by hand in the early...

0.09 miles away

Early Georgian house and walled garden, home of writer Henry James and later of E F Benson, author...

0.1 miles away

The Ypres Tower was built in 1249 to defend Rye against attacks from across the channel. It has...

0.16 miles away

Camber Castle was one link in the chain of forts built along the south coast by Henry VIII in 1544....

0.99 miles away
Large coastal nature reserve with a vast array of wildlife. Network of footpaths leading to 5...

1.26 miles away

This stunning stretch of sandy beach is home to the only sand dune system in East Sussex. Camber...

1.63 miles away

Early 16th Century house owned by early Victorian actress Ellen Terry. Full of theatrical mementoes...

6.48 miles away

The best wines in England available in the shop plus excellent local and regional produce. Guided...

6.59 miles away

Varied collection of water pumps mainly from the steam era including 1904 Tangye and 1940...

6.7 miles away

An example of a 15thC manor house with antique furniture and needlework. Home of gardening writer...

6.82 miles away

As a British Water-ski Accredited Water-ski School and RYA Centre, Action Watersports specialises...

7.66 miles away

Carr Taylor Wines,whose winery is at Westfield, just north of Hastings are producers of...

7.82 miles away

Please note Ecclesbourne Glen is not accessible from the East Hill because of serious, and ongoing,...

8.01 miles away

Unique collection of Morgan 3-wheel cars, eleven from 1913-1935, plus 1904 Humber Tricar, 1929...

8.47 miles away

The picturesque line weaves between Tenterden and Bodiam for 10 1/2 miles. England's finest rural...

8.63 miles away

Display of marine life with hundreds of marine creatures including sharks, rays, crabs and starfish...

8.72 miles away
Previous
Next