Rochester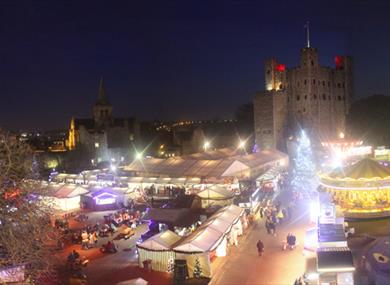 The ancient cathedral city of Rochester, with its Norman castle was place cherished by the Victorian novelist, Charles Dickens, who lived in the area as a child and returned as a successful author.
With history dating back centuries, there are so many things to do in the historic city itself. Explore the stunning Rochester Cathedral, founded in 604 and the second oldest in England. Enjoy the breathtaking views from the top of one of the tallest keeps in the Country at the magnificent Rochester Castle. Built on the highest part of Rochester's Roman city wall, to defend the crossing of the River Medway.
Dickens' most impressionable childhood days were spent in Medway. Historic Rochester inspired the author so much that he featured it in his work more than any city, other than London. Many of the buildings that featured in the works of Dickens can still be seen today. These include Restoration House, used in Dickens' novel 'Great Expectations' as the home of Estella and Miss Havisham, The Poor Travellers House, immortalised by the author in a Christmas short story and the impressive Guildhall Museum of local history. At the museum, visitors can learn more about the author and his works in the Dickens Discovery Room via a multi-lingual touch screen technology and film.
During the summer months, visitors can explore the city on foot with a local guide or they can literally follow in the footsteps of Dickens' on a self-guided walking tour and see the buildings he wrote about in his works (leaflet available with map) from the Visitor Information Centre in the High Street.
Located within the centre on the first floor is the Huguenot Museum which tells the dramatic story of the Huguenots, their persecution in France, escape to Britain and the trades, crafts and skills they brought with them that has since contributed to the formation of modern Britain." For things to do in Rochester this weekend, check out our Kent events calendar.
Towns & Villages near Rochester
See what this part of Kent has to offer with these places near Rochester
What's Nearby
The Huguenot Museum tells the story of Britain's first refugees: the skills they brought to the UK,...

0.03 miles away

Situated in the heart of historic Rochester, Eastgate House featured in the work of Charles Dickens.

0.07 miles away

Consecrated in AD604, the present building dates from 1080. A blend of Norman and Gothic...

0.1 miles away

One of the finest keeps in England. Also the tallest, partly built on the Roman city wall. Good...

0.2 miles away
Discover the history of Medway from pre-historic times to the present day at the Guildhall Museum...

0.23 miles away

St Peter's Church Sandwich

0.54 miles away

Fun, original and just a little wacky, Diggerland Kent is sure to provide one of the most memorable...

0.77 miles away

A 13th century great chamber, on a vaulted undercroft, of a manor house of the Knights Templar.

0.89 miles away

Formerly Chatham Town Hall, The Brook Theatre is a hive of entertainment, activity and learning.


0.91 miles away

Located in the heart of Chatham town centre, this beautiful 965-seat venue is already home to a...

0.92 miles away

2016 is a year of continuous discovery and exploration at The Historic Dockyard Chatham, one of...

1.03 miles away

There is something for all the family. Zulu War items, Boer War, World Wars I and II, planes,...

1.36 miles away

This attractive, turreted castle is set in a picturesque village area that is backed by rolling,...

1.57 miles away

Oare Gunpowder Works - Gunpowder was manufactured at Oare for several centuries on a site that has...

1.67 miles away

Capstone Farm Country Park is one of Medway's finest green spaces, offering wonderful opportunities...

2.9 miles away


The Earls of Darnley were usually buried in Westminster Abbey, but by the late 18th century, their...

2.95 miles away
Previous
Next