Oxfordshire Cotswolds
Witney
Oxfordshire
OX28 1NB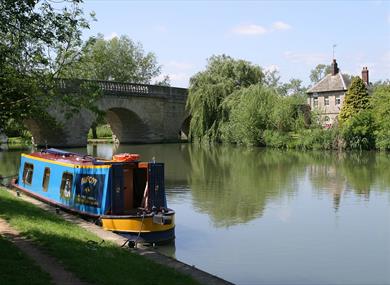 Throughout history, visitors have succumbed to the charm of the Oxfordshire Cotswolds. Steeped in history, rich in heritage and awash with natural beauty, the Oxfordshire Cotswolds is rural England at its very finest.
A charming blend of bustling market towns, like Burford, Chipping Norton and Woodstock, and breathtaking scenery that has earnt it classification as an Area of Outstanding Natural Beauty, the Oxfordshire Cotswolds harbours over 6,000 years of history and a sense of harmony that has taken countless generations to create.
As you travel between thriving communities and peaceful open countryside, you'll experience the full flavour of the Oxfordshire Cotswolds past and present - its sometimes turbulent past, its colourful people and the rich diversity of its culture and heritage. Revel in the lively atmosphere of the towns, enjoy the wealth of attractions and explore the area's rich history.
What's Nearby
The Cotswold stone farm buildings grouped around the farmyard and the manor house beyond provide a...

0.66 miles away

Guided tours of the brewery every Saturday and Sunday afternoon. The tour lasts approximately 45...

0.78 miles away


Come and join us on a great day out with photo opportunities, feeding displays, crocodile talks...

1.46 miles away

The Spa at Witney Lakes Resort provides you with the chance to taste the exotics as well as adding...

2.32 miles away
The watersports centre is located between our two lakes. We have a wide variety of watersports...

4.15 miles away

As well as over 30 buses on display, there are other numerous exhibits adding a period feel....

5.14 miles away

West Ox Arts is situated in a lovely, spacious gallery on the first floor of the Grade II listed...

5.43 miles away

Bampton Garden Plants started out as a small plant sale that occurred a couple of times a year...

5.44 miles away

Charlbury Museum is an independent museum, run entirely by volunteers. Its five rooms are crammed...

5.53 miles away

Birthplace of Sir Winston Churchill and home to the Duke of Marlborough, Blenheim Palace, one of...

6.37 miles away

A museum which tells the personal lives of generations of men and women experienced through war.

6.46 miles away

Wychwood Wild Garden is a beautiful woodland and garden, close to the centre of Shipton under...

6.72 miles away

One of Oxfordshire's top attractions and one of the most beautiful zoological collections in the...

7.51 miles away

The splendid 18th century buildings, in the idyllic setting of the tranquil village of Filkins,...

8.38 miles away

Foxholes is a tranquil woodland sloping down to the River Evenlode with year-round colour and...

9.07 miles away

Arts centre for live music, theatre, film screenings. With a 200-seat theatre space and two...

9.17 miles away
Previous
Next