Newport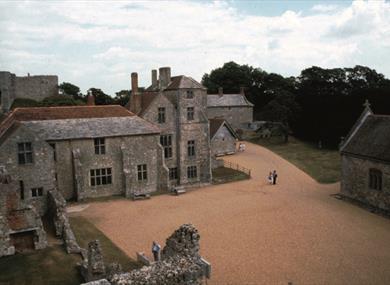 Newport on the Isle of Wight has two elegant squares and many fine Georgian and Victorian town houses.
The impressive colonnaded Guildhall was designed by John Nash and built in 1816, with the clock tower added in 1887 to commemorate Queen Victoria's Golden Jubilee. It now houses the Museum of Island History and the Tourist Information Centre.
To experience more Newport history, visit the 3rd-century Roman Villa and Carisbrooke Castle, on the outskirts of the town. Shopping in Newport is a pleasure, with a variety of exclusive small shops, coffee shops and cafes all within easy walking distance. There is plenty of evening entertainment, with cinema, three theatres and a host of popular pubs and restaurants.
Newport Harbour is just a short walk from the town centre, with facilities for visiting yachtsman. Museums, crafts studios and the Quay Arts Centre are housed in former warehouses.
For more information, visit the official tourism website for Newport
What's Nearby
On the edge of Newport town centre, the remains of this Roman farmhouse are well worth discovering....

0.62 miles away

Visit Carisbrooke Castle and enjoy over 800 years of history!

1.45 miles away

Monkey Haven is a Gold award-winning attraction that makes animals happy... and people happy. Come...

1.48 miles away

Electric Woods is a series of stunning evening events featuring a spectacle of themed light, colour...

2.41 miles away
With free unlimited return visits over a seven day period, award-winning Robin Hill definitely...

2.44 miles away

ROMAN ERA - COMBLEY ROMAN VILLA:
The mysteries of our buried roman villa are revealed in this...

2.44 miles away

Step into Queen Victoria's favourite country home and experience a world unchanged since the...

3.4 miles away

Inspiring, Surprising and Award-Winning … Equally appealing to adults and families, your visit to...

3.47 miles away

The friendly team at Haven Falconry are dedicated and skilled falconers who have a passion for...

3.47 miles away

Come to the Garlic Farm and indulge all of your senses. Taste all our amazing garlic products from...

3.74 miles away

We offer a choice of cruises to suit everyone. Cruises most days, ranging from 25 minutes Cowes...

3.75 miles away

Cowes Maritime Museum displays a selection of objects and images which help to tell the story of...

3.97 miles away

Allendale is situated on its own Bridleway in the glorious countryside. We pride ourselves in...

4.17 miles away

East Cowes Beach is a quiet shingle and sand beach with fantastic views across West Cowes and its...

4.23 miles away

Amazon World Zoo Park is the Isle of Wight's largest exotic animal attraction and is a great day...

4.64 miles away


17th-century town hall with no town but a fascinating history

Tucked away in a tiny hamlet...

4.82 miles away
Previous
Next