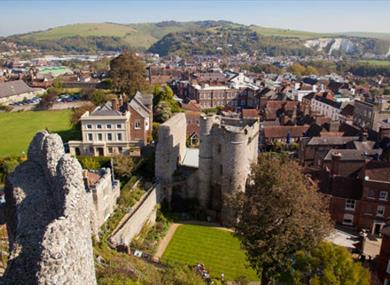 At the heart of rural Sussex lies the beautiful county town of Lewes - a mixture of the unusual and intriguing and so typically Sussex.
Its medieval streets, old English churches and tiny twittens (a Sussex word for alleyway) allow visitors a glimpse into the true essence of bygone Lewes. Although surrounded by chalk cliffs, the townscape is dominated by the remains of a Norman castle and is also home to the handsome townhouse of Anne of Cleves (fourth wife of King Henry Vlll). Lewes also claims host to numerous contemporary art galleries and historic & special interest sites including the once mighty Priory of St. Pancras - a casualty of the dissolution of the monasteries.
Lewes is a market town of small, specialist, independent retailers and on certain days, the subtle aromas wafting from Harvey's Brewery will attract any visitor to Cliffe High Street. Bookshops, boutiques and antique centres sit alongside individual craft workshops, and the restaurants, cafes, and pubs offer delicious choices all year round with real emphasis on local produce.
Things to do near Lewes
A short drive from Lewes reveals an abundance of tourist attractions making the town of Lewes an attractive base for a short break.
Find out what's happening this weekend near Lewes in our Sussex events guide or explore the local area in the towns and villages near Lewes using the 'what's nearby' section below.