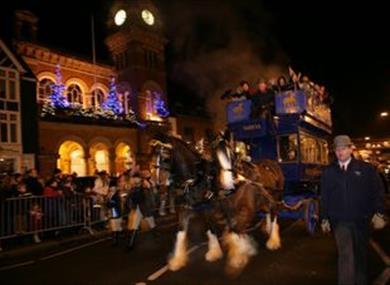 In the far west of West Berkshire, alongside the Kennet & Avon Canal and surrounded by beautiful countryside, the charming market town of Hungerford boasts impressive transport links for a town of its size.
It is conveniently placed for access to the M4 motorway and is on the main train line from London Paddington to the West Country.
Hungerford is best known today as a centre for antique shops and fairs. The town is also home to other unique shops and boutiques, where you can lose yourself for a delightful few hours. There's also a range of warm and friendly pubs, cheery tea shops and restaurants to tempt you. The unusual yet extraordinary Ashdown House nestles in a beautiful valley not far from the town.
Tutti Day
Tradition is the cornerstone of several events in Hungerford. Tutti Day, once a nationwide affair, takes place on every second Tuesday after Easter. Hungerford residents are the only people in Britain still to don their costumes as part of the Hocktide celebrations. The Tuttimen follow the Orange Man to each residence in the town, climbing their ladders to present the ladies of each house with an orange, in return for a kiss. Gentlemen then offer up their penny to the Tuttimen as 'rent'.
The town is also home to the July Hungerford and District Community Arts Festival (HADCAF) where local talents are showcased for an enraptured audience and a pre-Christmas must, the Victorian Extravaganza.
It's impossible to escape the wonderful countryside as the town is surrounded by open common land and not far from England's highest chalk hill, Walbury Hill, near Inkpen.
What's Nearby
Traditional horse-drawn and motorised canal boats. Kennet and Avon Canal. Refreshments, coach...

4.18 miles away

Alabaster nobles and wall paintings in a rural idyll.

This simple little church, with pre-Norman...

5.15 miles away

Tours of Racehorse Stables includes gallops, racing stables, equine swimming pool, Hall of Fame and...

6.53 miles away

The beautiful and intimate Watermill Theatre, housed in a converted mill on the bank of the river...

7.11 miles away
Fourteenth-century gatehouse and Civil War earthworks are all that remain of this castle destroyed...

7.99 miles away

The museum has benefitted from an amazing £2.26 million transformation which includes restoration...

8.47 miles away

Shaw House was built by a Newbury clothier in 1581 and retains much of its original Tudor...

8.68 miles away


Unusual Dutch-style house on the Berkshire Downs

This extraordinary building with a...

8.9 miles away

Highclere Castle is a splendid example of early Victorian architecture. The home of the Earl &...

8.94 miles away

Newbury Racecourse is one of the most famous and prestigious horseracing venues in the UK,...

9.18 miles away

After many years as a military site, Greenham and Crookham Common has been restored and reopened to...

9.29 miles away

This red-brick chapel was built in the 1920s for the artist, Stanley Spencer to fill with murals...

9.38 miles away

The Nature Discovery Centre offers organic refreshments, interactive wildlife activities ,...

10.51 miles away

Our aim at roots is to provide our customers with a friendly and efficient service at all times....

10.56 miles away

Heathland, valley bog and woodland. Suitable for most quiet recreational activities such as walking...

10.81 miles away

Pay a visit to this ancient rolling downland, home to an enigmatic chalk hill figure!

11.41 miles away
Previous
Next