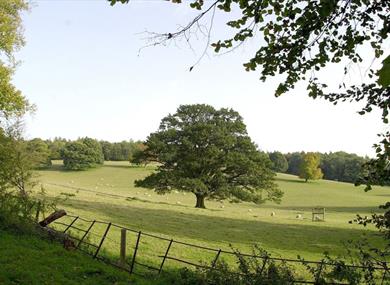 A large and attractive village in the Misbourne Valley in the Chiltern Hills with a narrow, curving High Street of half-timbered and Georgian houses, shops, inns and a 14th c. church.
The 12th c. abbey is now used for conferences and courses. Author Roald Dahl lived at Gt Missenden and wrote many of his best-loved children's books here. The Roald Dahl Museum and Story Centre is located in the High Street. The Museum, aimed at 6 to 12 year olds, features three interactive galleries. Boy gallery looks at Roald Dahl's school days while Solo gallery houses his original Writing Hut.
Five things to do within 20 minutes of Great Missenden
Have a look at the 'What's Nearby' listings below for places to visit near Great Missenden or for what's on, check out our Buckinghamshire events guide.
What's Nearby
The Roald Dahl Trail reveals the secret of where to go and what to see for an absolutely squiffing...

0.06 miles away

The Roald Dahl Museum and Story Centre, in Great Missenden is where Roald Dahl (1916-1990) lived...

0.43 miles away

Pay a visit to the oldest horse charity in the world, established in 1886 to help the working...

3.91 miles away

Victorian home of Prime Minister and statesman Benjamin Disraeli from 1848 until his death in 1881.

4.14 miles away
Take a dip in a virtually chemical free crystal clear outdoor swimming pool at a constant 84...

4.29 miles away

Amersham Museum is located in the oldest house in Amersham. The museum has a collection of objects,...

4.51 miles away

A 17th century timber smock mill with original wooden machinery. Built in 1650 and restored during...

4.7 miles away


Picturesque village in the Chiltern hills

Scenic village with cottages clustered around a...

5.02 miles away

Kraft Village
High Wycombe Chair Making Museum exhibits tools used in making 4,700
chairs a day in...

5.47 miles away


The elegant Palladian home of the Dashwood family and historic village

West Wycombe Park is one...

5.99 miles away

Bekonscot Model Village and Railway is the world's oldest and original model village, opening for...

6.72 miles away

This Go Ape course is set high up on the Northern crest of the Chiltern escarpment. You can enjoy...

7.65 miles away

Stoke Mandeville Stadium boasts the highest grade of facilities for our leading sportsmen and women...

7.96 miles away

Caves dug into chalk hillside extending to approximately 0.75 mile. Enter through a flint forecourt...

8.15 miles away

Chiltern Open Air Museum is home to over 30 historic buildings, spanning 2000 years of history, all...

8.49 miles away


We are a standard gauge railway operating both steam and diesel hauled train services from our...

8.56 miles away
Previous
Next