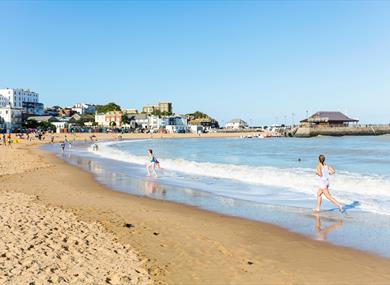 A stroll around Broadstairs is a journey of discovery, with a lovely surprise around nearly every corner, into quirky little lanes where tiny flint houses and fishermen's cottages nestle together comfortably, as they have done for years.
For Charles Dickens, Broadstairs was "the freshest, freest place", and today the town still charms with old-world, seaside charm. There are plenty of Dickens connections, including the imposing, cliff-top Bleak House and the Dickens House Museum, once home to the woman who inspired the character of Betsey Trotwood in David Copperfield.
You'll wander along the main thoroughfares and be enticed.
A promenade amble reveals charming gardens, great for relaxing in with a delicious homemade ice cream, whilst a clifftop stroll uncovers seven beautiful beaches and bays, each a little different. The resorts main beach, Viking Bay, has a small harbour and children's amusements. Joss Bay is more rural and offers great surfing opportunities, while Botany Bay is quieter and more secluded and can feel a million miles from anywhere. The Crampton Tower Museum is a fascinating small museum is partly housed in a flint tower adjacent to the Broadstairs Railway Station.
The quiet charm of Broadstairs belies the entertainment opportunities there are. The resort has a full calendar of events from the annual Dickens Festival and Folk Week to the Blues Bash and Food Festival. There are a mouth-watering number of restaurants, cafes and pubs to choose from – you could eat your way around the world.
For more informatation visit the official tourism website for Broadstairs
Information
What's Nearby
The Crampton Tower Museum is a fascinating small museum is partly housed in a flint tower adjacent...

0.08 miles away

South East England's premiere surf school. Established in 1998 we have given thousands of lessons...

0.12 miles away

The Theatre Royal, Addington Street Margate Kent, is perhaps southern England's most haunted...

0.29 miles away

A small popular tucked away bay that is great for rock pooling with a promenade café

0.32 miles away
Previous
Next