What makes a good group lunch stop? The location, the cost, the cuisine? This feature has carefully selected a collection of lunch stops we think you will find are not just good but are great for groups! Dine in picturesque pit stops, experience the unconventional lunch stop and discover the delights of some of the South's quintessential towns & villages.
Picture Perfect.
The South East is by no means short of picturesque postcards, continuously shifting throughout the seasons and never failing to add essence to a classic lunch stop. The New Forest in Hampshire, home to Beaulieu National Motor Museum and Exbury Gardens, is a perfect example of this. Enjoy locally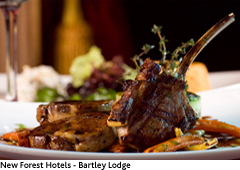 inspired dishes at Bartley Lodge Hotel, one of the four exceptional New Forest Hotels dotted around the New Forest. Located minutes from the M27 and close to Lyndhurst, this charming country house restaurant, historically Charles Lyell's library, is great for groups, with plentiful parking, enjoy a two or three course lunch from £15.00pp, for group visits, 1 in 10 people (plus the organiser or driver) eat for free.
From its source near the Cotswolds to Teddington lock, the iconic River Thames flows through a wealth of attractions, including the River Rowing Museum, Beale Park and Windsor Castle. Just a short distance off of the A34, dine at the Riverside Brasserie No.1 Folly Bridge. Indulge in a fabulous market menu, with two courses from £9.95pp this lunch time pitstop is perfect for groups. Alternatively step onboard Oxford River Cruises for a lazy lunchtime picnic cruise, for £29pp, enjoy a two and half hour cruise down the Thames in Oxford, cruise past famous landmarks including Christchurch College and Meadows, the University boathouses and regatta course and Folly Bridge (shorter cruise area can be quoted on request). In the heart of the Cotswolds find The Windmill Carvery a beautifully converted Stone Barn, with stunning views over the Windrush valley. Situated just off the A40, savour a Carvery & Pudding special offer of £11.25 (normally served Wednesday to Fridays however alternative days can be available on request).
Eccentric Lunch Stops.
Shake up the conventional lunch stop with a two-hour return cruise with Kennet Horse Boat Company. Connecting with both the M4 and A34, watch the world go by afloat a horse drawn barge on the Kennet and Avon canal. Lunch options include a sandwiches, tea and cake menu (£6.75pp) or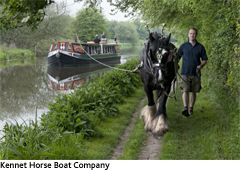 alternatively a ploughman's selection (£7pp). Larger groups can charter the boat but for smaller groups of over 25 passengers, Kennet can offer the boat trip on a per head basis with the food added as an extra.
Rich in maritime and naval history, why not enjoy lunch in the exceptional surroundings of Portsmouth Historic Dockyard, even if you are not visiting the attractions of Portsmouth Historic Dockyard, the main restaurant, Boathouse No. 7 is a brilliant lunch stop for groups. Once used for building smaller craft of the Royal Navy it has benefited from dramatic interior design and maritime features. One, two or three course menus are available from £9.95 - £15.00pp.
Alternatively, Looking for a late lunch? Experience Spinnaker Tower's New for 2012 Harbour side High Tea, available for groups of 15 to 30 in the Waterfront Cafe, for £17.00pp enjoy this late afternoon quintessential English tradition including entry into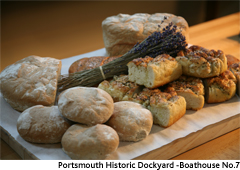 Spinnaker Tower. From the M275, Portsmouth Harbour is conveniently connected to the M27, A27 and A3(M) and therefore the rest of Britain's motorway network.
Consider The Historic Dockyard Chatham. This 400 year old dockyard welcomes groups to dine at Commissioner's House, Britain's oldest naval building, combine lunch or afternoon tea with a tour of the house for a special afternoon stop off. Alternatively enjoy the best fish and chips in an extraordinary location, experience lunch on board a Second World War destroyer HMS Cavalier or the Victorian Sloop HMS Gannet. Both opportuinties guarantee a truly memorable lunch stop.
With easy access from the Guildford by-pass, enjoy lunch in the presence of a landmark at Guildford Cathedral. Enjoy a lavish lunch at The Refectory overlooking the Town and Surrey Hills. The Refectory prides itself in an ever changing counter lunch selection that draws on local seasonal produce as well a lunch board that ranges from something quick and simple to a hearty meal. Ample coach parking is available and as well as guided tours of the Cathedral.
Towns and Villages.
The South East is home to a number of typically British towns and villages including Royal Tunbridge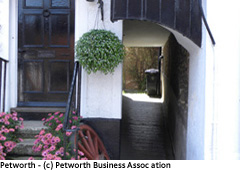 Wells, Guildford and Winchester. Just off of the A3(M), on the A272 discover the quintessential market town of Petworth, with ample parking and many cafes, pubs and restaurants, including traditional country pubs like The Star, The Grove and The Stonemasons Inn, consider it a perfect pitstop on route through the region.
With parking on west Parade, Bexhill on Sea is perfectly positioned as a good stop off for lunch between Eastbourne and Rye. The sea front provides a number of places to eat, including Sovereign Light Café, famously the feature of local band Keane's new song 'Sovereign Light Café'. There is also a newly opened visitor information point at No.48 (a cafe and a great community meeting place).
The information contained in this feature is given in good faith on the basis of information provided by TSE members. TSE cannot be held responsible for any errors, omissions, subsequent alterations or misinterpretations. The information within this feature was correct at the time of pulication in June 2012. It is advisable to check directly with the establishment concerned to ensure that information is still accurate and available before travelling.
.