Beaulieu
From Victorian characters dipicting life as it once was at Palace House, to rides through time on 'Wheels'.
Palace House
Visit Palace House at the The National Motor Museum, Beaulieu in Hampshire. Home of the Montagu family since 1538, this charming house gives a fascinating insight into life in a Victorian household. Watch history come alive with real Victorian characters; tales from the Butler, Cook and Housemaids give a fascinating insight into the workings of a Victorian household, showing their life 'Upstairs and Downstairs'.
Motor Cars
In the National Motor Museum itself, take a ride on 'Wheels' - a space-age pod ride – which gives a fascinating voyage through 100 years of motoring. 'Wheels' tells the story from the dawn of motoring through to a vision of cars in the future.
Halloween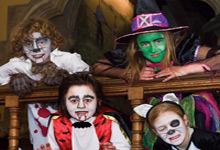 Beaulieu is reputed to be one of Britain's most haunted places and ghosts have often been seen and heard in its 13th century Abbey and at Palace House, home of the Montagu family since 1538. This October Half Term, 27th October – 5th November, Halloween descends on Beaulieu with plenty of themed activities to enjoy. Hear Spooky Stories from the costumed guides in Palace House, take a lucky dip in the Witches Cauldron and be given a Gruesome Face Painting. For your chance to win a family day pass to Beaulieu, enter our competition here.
History is fun at Beaulieu!