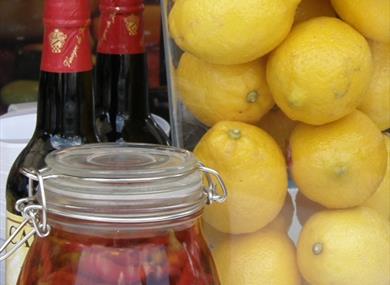 Brede Farmers Market is held every Friday at Brede Village Hall is staffed by volunteers and has been running for eight years and operates every Friday morning throughout the year (apart from the Friday between Christmas and New Year).
There between 14 and 18 stalls supplying the basics such as meat, game, fish, bread, dairy products, preserves, fruit juice and vegetables as well as luxury items such as handmade chocolates, fudge, jewellery, cards and sometimes wine. The idea is that seasonal local food products should be available at sensible prices and in small enough quantities to meet the needs of the customers. This way we can support local farmers, cut down on food miles and provide good fresh produce.
Being able to walk to the Village Hall to buy produce grown from within a radius of 15 miles is an attractive proposition. It's local and it's fresh... and you can meet the producer.
We have also inadvertently created a social setting where people can sit over a cup of tea or coffee and a biscuit or cake with friends. The money we take goes to local charities, or charities close to the hearts of the volunteers. The list is endless and so far totals over £8000.
We are a non profit making organisation with the table money, about £2000 a year, going directly to the Village Hall which helps to pay for it's upkeep.
Opening Times
Farmers Market

(03/05/2013 - 31/05/2013)

Day
Times
Friday

10:00

12:00
Farmers Market

(07/06/2013 - 28/06/2013)

Day
Times
Friday

10:00

12:00
Farmers Market

(05/07/2013 - 26/07/2013)

Day
Times
Friday

10:00

12:00
Farmers Market

(02/08/2013 - 30/08/2013)

Day
Times
Friday

10:00

12:00
Farmers Market

(06/09/2013 - 27/09/2013)

Day
Times
Friday

10:00

12:00
Farmers Market

(04/10/2013 - 25/10/2013)

Day
Times
Friday

10:00

12:00
Farmers Market

(01/11/2013 - 29/11/2013)

Day
Times
Friday

10:00

12:00
Farmers Market

(06/12/2013 - 27/12/2013)

Day
Times
Friday

10:00

12:00
What's Nearby
Sedlescombe Organic Vineyard

England's oldest organic vineyard, established in 1979. A woodland nature trail forms part of the...

3.11 miles away

Built in 1385, by Sir Edward Dallingridge, Bodiam Castle is set in open parkland and approached...

4.21 miles away

Step back in time and discover an adventure that the whole family will enjoy at award-winning...

5.14 miles away

An abbey founded by William the Conqueror on the site of the Battle of Hastings. Battlefield views...

5.15 miles away
This 109 acre park was originally laid out by Robert Marnock, a renowned landscape gardener, in...

5.58 miles away

These acres of caverns conceal Hastings' exhilarating history of smugglers, bootleggers and warring...

5.87 miles away

Housed in a Regency town hall, the displays include seaside holidays, wartime, fishing, Victorian...

5.93 miles away

Early Georgian house and walled garden, home of writer Henry James and later of E F Benson, author...

5.96 miles away

Fragmentary remains of Norman Castle built on West Hill after William the Conqueror's victory at...

5.96 miles away

Shipwreck Museum

Maritime museum with 3000 years of historic treasures from local shipwrecks. Audiovisual show 'A...

5.97 miles away

Displays of dinosaurs, wildlife, Native Americans, paintings, ceramics, features on John Logie...

5.99 miles away

The scenic route this canal takes is perfect for walking and cycling. Dug by hand in the early...

6.04 miles away

East Hill Lift provides easy access to the Country Park
West Hill Lift takes you to the Castle and...

6.04 miles away

Unique collection of Morgan 3-wheel cars, eleven from 1913-1935, plus 1904 Humber Tricar, 1929...

7.76 miles away

A 4-acre garden featuring herbaceous borders, unusual plants, water gardens and colour-themed...

7.77 miles away

Early 16th Century house owned by early Victorian actress Ellen Terry. Full of theatrical mementoes...

8.05 miles away
Previous
Next