Hotel du Vin & Bistro





Town House Hotel
2-6 Ship Street
Brighton
East Sussex
BN1 1AD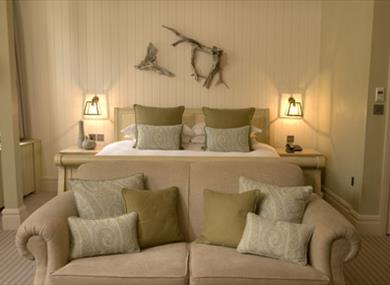 Hotel du Vin Brighton is situated in The Lanes conservation area, a pebbles throw from the seafront.
Our 49 Bedrooms are housed in a collection of eccentric gothic revival and mock Tudor buildings erected, appropriately by a wine merchant on the site of an old inn.
Among our many interesting features are heavily carved staircases and bizarre gargoyles, while the original double-height hall now houses our wine bar overlooked by the mezzanine bar.
Other new additions include the impressively large Dome room and Pub du Vin, a traditional pub with a du Vin twist
Awards
AA Awards -

2 AA Rosettes

2012
Gradings
4 AA Stars Town House Hotel

What's Nearby
Old Police Cells Museum

The Old Police Cells Museum is a fascinating glimpse into the past. Come and see where the first...

0.1 miles away

The Brighton Centre is the largest multi purpose venue on the south coast. Offering accommodation...

0.18 miles away

Glenda Clarke - Blue Badge Tour Guide

Experienced qualified Blue Badge Guide for South East England and London, specialising in Brighton...

0.2 miles away

Only in Brighton

Only in Brighton is a vivid, fact-filled and humorous 80-minute guided walk that takes a sideways...

0.2 miles away
Theatre Royal Brighton presents a sensational programme of West End drama, musicals, comedy and a...

0.22 miles away

The Royal Pavilion, the spectacular seaside palace of the Prince Regent (George IV), transformed by...

0.25 miles away

Brighton Museum has dynamic and innovative galleries - including fashion and style, 20th century...

0.26 miles away

You can't get much more of the British seaside experience than eating fresh fish and chips at the...

0.28 miles away

This fascinating museum houses exhibits that include hundreds of British birds displayed in...

1.22 miles away

Brighton Racecourse is the fun and friendly seaside racecourse overlooking the Brighton and Hove,...

1.43 miles away

A delightful manor house with the interior of an Edwardian home containing ceramics, furniture,...

1.54 miles away

Hove Museum is one of the most family friendly and accessible museums in the south east. It also...

1.8 miles away

Shoreham Beach

Shoreham Beach is a designated Local Nature Reserve (LNR) supporting large areas of vegetated...

5.82 miles away

Twelfth-century secular building with unusual architectural features. Housing the museum of the...

5.86 miles away

Shoreham Airport Visitor Centre

Shoreham Airport is the oldest licensed commercial airport in the UK and yet still operates...

6.45 miles away

Shoreham (Brighton City) Airport

Shoreham (Brighton City) Airport with its unique Grade II Listed Art Deco terminal building is a...

6.53 miles away
Previous
Next